The Customer Admin system is the bespoke data hub created to store information about customers. This tends to predominantly be used by customer facing teams. This CRM system includes all the information that is stored about a particular customer (including contact details, credit file and loan decision responses) and enables the teams to store further information regarding the particular customer.
Different tabs within the CRM system can be created to suit your operation's needs, to portion information into helpful sections. The information within each tab can be further filtered and restricted in order to only present the user with specifically what they want or need to see. Actions can also be locked down and restricted based on permissions to allow for control over agent ability to complete specific actions.
It is a completely customisable tool that can be set at individual user level, team level or department level. Information is only ever displayed where it is necessary to do so.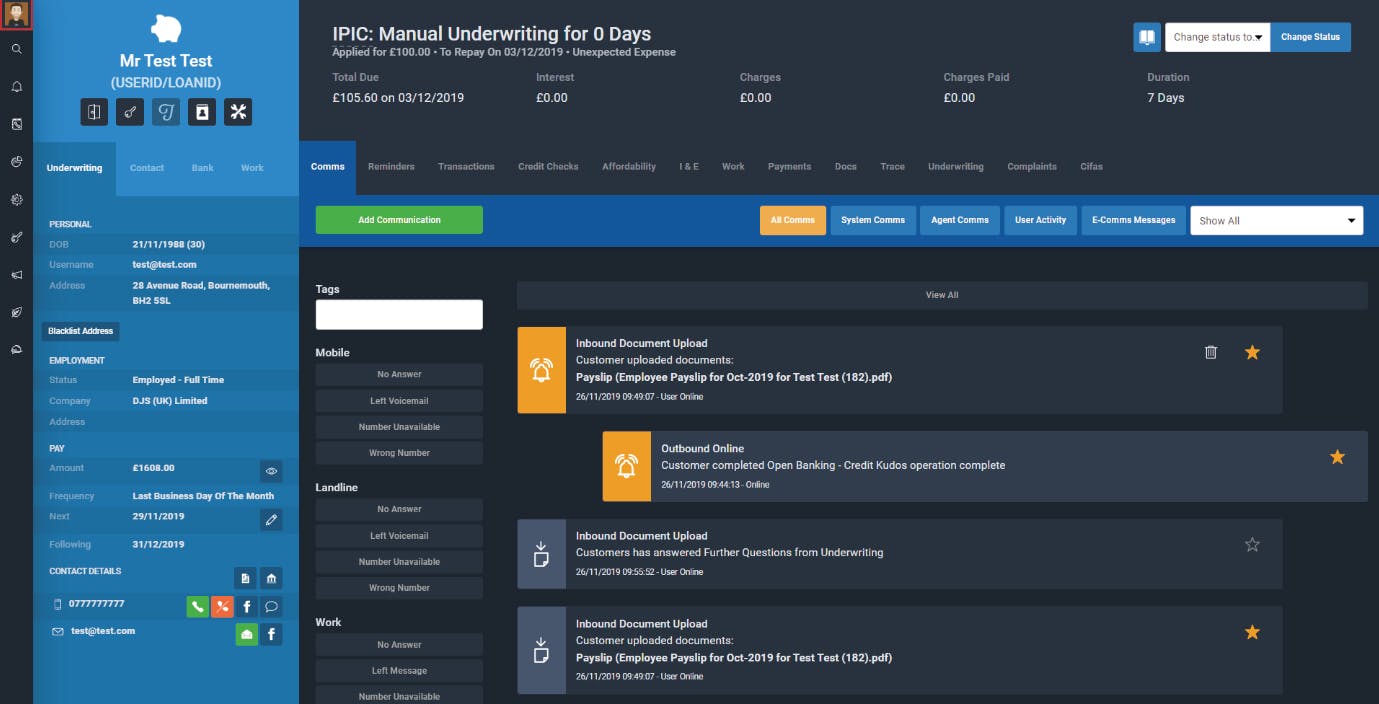 The CRM system stores records of all communications had with a customer, working synergistically with the E-Comms system and case listing tools detailed later in this brochure. There is functionality built into the main communication hub of the CRM that allows the user to create a note with only one click. This feature can be used to quickly note the contact attempts made to a customer's personal, home or work phone, and if that call was no answer, voicemail, unavailable or wrong number, removing the need to manually type frequently used notes.
Other features of the CRM system can include:
Customer Contact
Customer contact information is readily available, providing easy access to multiple email addresses and telephone numbers, as well as home address and work address and time at each location. For ease of use, preconfigured canned messages can be sent directly to the customer via email or SMS with just a couple of clicks. The content of these messages can be amended to meet your needs.
Search
Using our Customer Relationship Management System you can easily search for a customer by Name, Email Address, Telephone Number, Loan Application ID or Bank Account Number. All search results clearly display all loans applied for, their status (e.g. Live, In Arrears, On Hold) and whether a payout was made.
Application Overview
The status of an application can easily be seen from the Customer Overview screen. Additional information includes Total to Repay, Repayment Amounts and Repayment Frequency.
Reminders
Reminders can be assigned to an application and owned by a team member. Reminders are date and time stamped and email notifications are triggered to the assigned user. Team members can set reminders for themselves, for a colleague or for a team. Certain systemic actions can be configured to automatically set a reminder for a team member.
Application Event Log
Each application has full event logging and the ability to add additional notes. Events include changing of a telephone number, uploading of a document, or sending an email.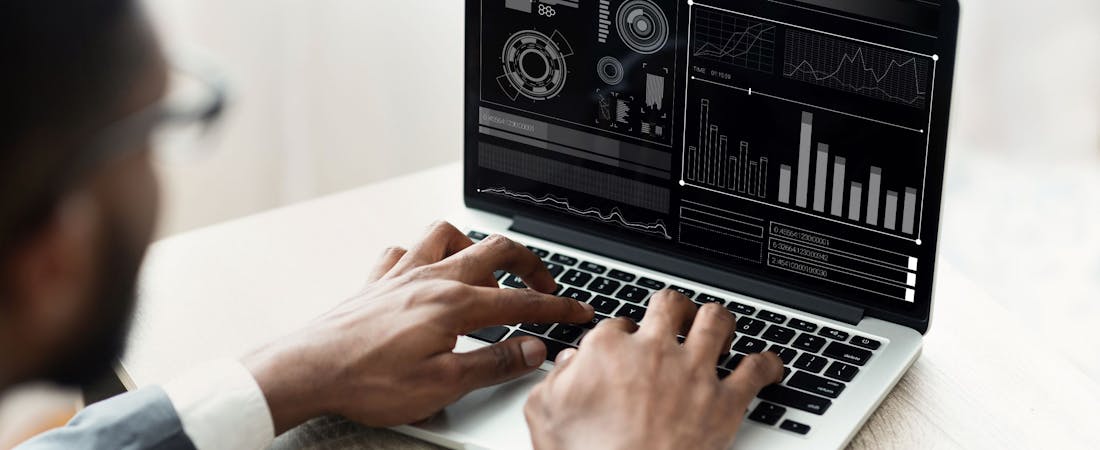 Flow Based Customer Management
Much in the same way that the development style is a workflow, a similar approach has been applied to the CRM system when it comes to handling contact with a customer.
The Flows system has been designed with consistency and efficiency in mind for all customer facing agents.
The Flows is a tool that guides a user through a conversation or investigation with a customer, by signposting the potential questions that should be asked, actions that should be taken, and outcomes that may be available for each customer and their specific requirements. This system leads to more consistent outcomes for customers, which in turn leads to better quality assurance results for customer facing agents.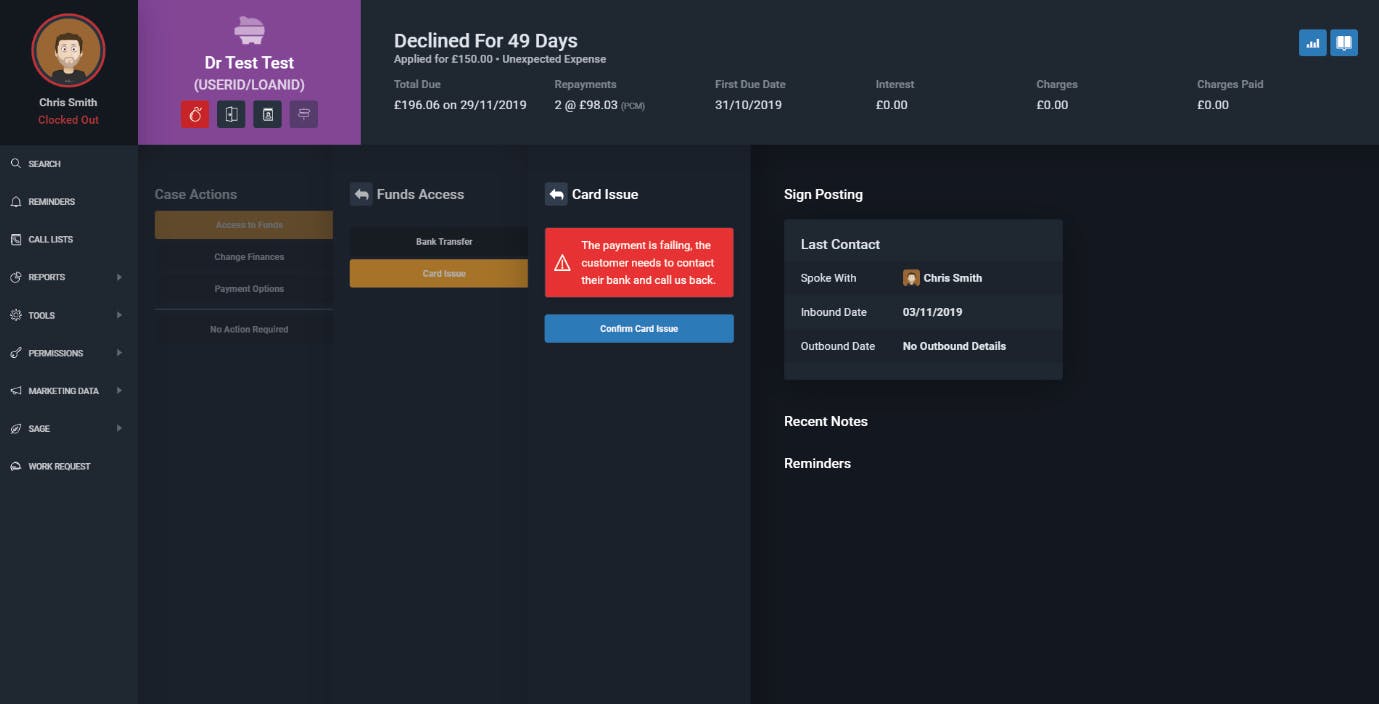 The stages within The Flows can be completely customised to reflect your operational processes, and different flows can be designed to cater to different teams and departments.
The individual actions taken while using The Flows system have been built to accommodate full reporting and MI oversight, and important actions are automatically recorded as a note within the main CRM, which promotes a better and more efficient case knowledge from an agent perspective.
The Flows also provide a kind of bookmarking functionality; it will lead a user to the place that the last user left a case, leading to a more seamless transition and a better customer experience.